DOGGIEVILLE MTL,
UNLEASH

THE HAPPINESS!
As a doggie mom, I always want to provide the best for my baby Ruby, but it can get tough. Whether grabbing a coffee with her, finding the ideal nutrition in the city's outskirts, dropping her off for grooming or daycare… I found myself driving miles to get it all done. And I can only guess I'm not the only one who felt overwhelmed. On top of that, the winter months make it challenging to have Ruby around given the limited accessibility to the outdoors. Even in the summer, conditions aren't always ideal, and I felt restricted with where to bring her to socialize. This is when I recognized the need for an all-in-one doggie complex. This was the very inspiration that ignited us both to open a place that we've always dreamed of… DOGGIEVILLE Mtl!
Welcome to this unique space for doggie lovers, you won't believe it until you see it!
Tatiana & Ruby Custode
Founder & CEO
DOGGIEVILLE MTL,
UNLEASH

THE HAPPINESS!
I embarked on a journey to find a place where my love for dogs could truly make a difference. And that's when I discovered Doggieville MTL, a haven for furry companions. Tatiana's incredible idea and dream to build Doggieville MTL were born out of her deep love for her own furry companion, Ruby. Witnessing her passion and dedication to providing the best possible care for dogs left a lasting impression on me. I was inspired by her unwavering commitment to creating a place where dogs could experience pure bliss, even when their parents were away.
Joining forces with Tatiana and the Doggieville MTL team was a dream come true. I felt an instant connection with her vision, and together, we set out to build a paradise for our four-legged friends. Tatiana's love for Ruby, combined with her entrepreneurial spirit, laid the foundation for Doggieville MTL to flourish and become the extraordinary place it is today.
Starting my journey at Doggieville MTL, I quickly realized that my potential knew no bounds. Day by day, I soaked up knowledge and experience, eagerly learning the ins and outs of the doggie world. From customer service representative to daycare supervisor, hotel supervisor to dog bather, I fearlessly embraced every opportunity to make a positive impact on the lives of these precious pups.
But my journey didn't stop there. I donned the hats of a waiter, barista, cook, accountant, administrative assistant, and operations manager—each role added to my ever-growing skillset to become the Managing Director of Doggieville MTL
As time passed, my love for technology shone through. I realized that by combining my passion for dogs with my knowledge of technology, I could create something truly special. And so, armed with my expertise, I set out to craft a website that would encapsulate the essence of Doggieville MTL.
The result is a whimsical online world, brimming with colourful pictures, heartwarming stories, and a plethora of resources that showcase the dedication and love with which Doggieville MTL operates. It's a place where dog owners can feel at ease, knowing that their furry babies are in the best of hands.
With each wagging tail, happy bark, and smiling doggie face, my heart swells with joy. I have not only found my purpose but have also helped turn Tatiana's dream into a reality. Together, we built a sanctuary where dogs can experience true happiness while their parents are away.
Puneet Sidhu
Managing Director
MEET OUR FURRY
FAMILY MEMBERS
At DOGGIEVILLE Mtl, we're all about family & doggies. So much so that all our services are named after our family pups. We find it adds to our love for animals and gives our furry kids the recognition they deserve. Check out their stories to find out which service is named after who!
I always imagined myself with a little white furry doggie who would be my partner in crime and follow me on my adventures.  In December 2005, my best friend made my dream come true.  Ruby was the most beautiful gift I ever received; my beautiful baby came into my life as a Christmas present.
She was as I always imagined her, a beautiful Bichon Frise, white as snow, affectionate, sensitive, playful and with a big belly! She was already five months old and changed my life for the better.  I became a dog mom and Ruby taught me what real love is, the meaning of compassion, loyalty and patience, and helped me to find a path in life.  Ruby has always been there, through the good and the bad times. Every time I needed a hand, I always found Ruby's paw.
During so many years, Ruby accompanied my whole family and inspired in them the desire to adopt a furry companion.  Now all of them are proud doggie parents and Ruby is part of a lovely pack!
Ruby has always been pretty picky when it comes to food. It has never been easy to satisfy her fine palate. When DOGGIEVILLE Mtl was created, I named our restaurant after her. If Ruby approves the chef's creations, it means the food meets her high-quality standards. Now Ruby's Café is delighting doggie parents and furry visitors with a wide variety of nutritious and tasty options.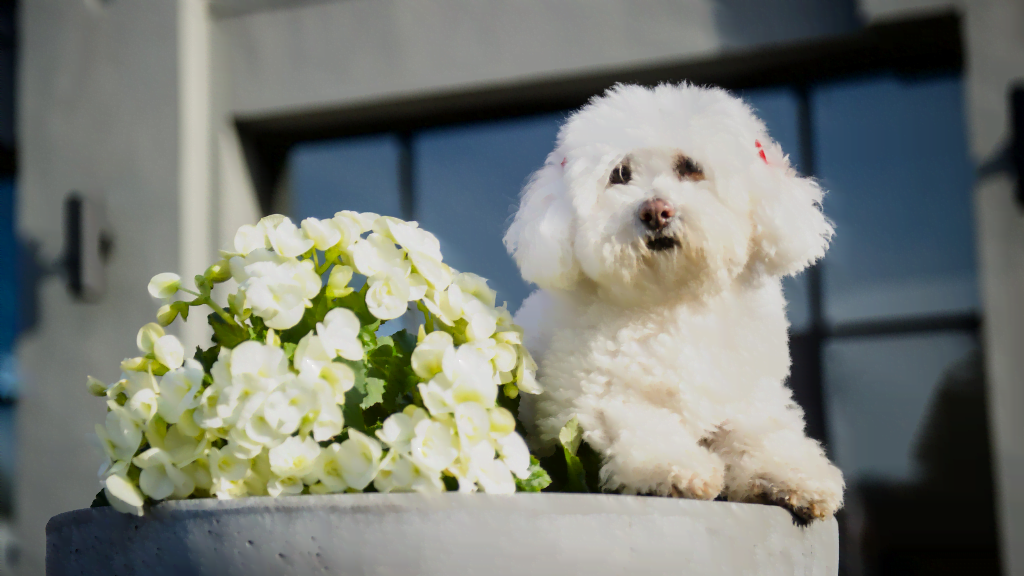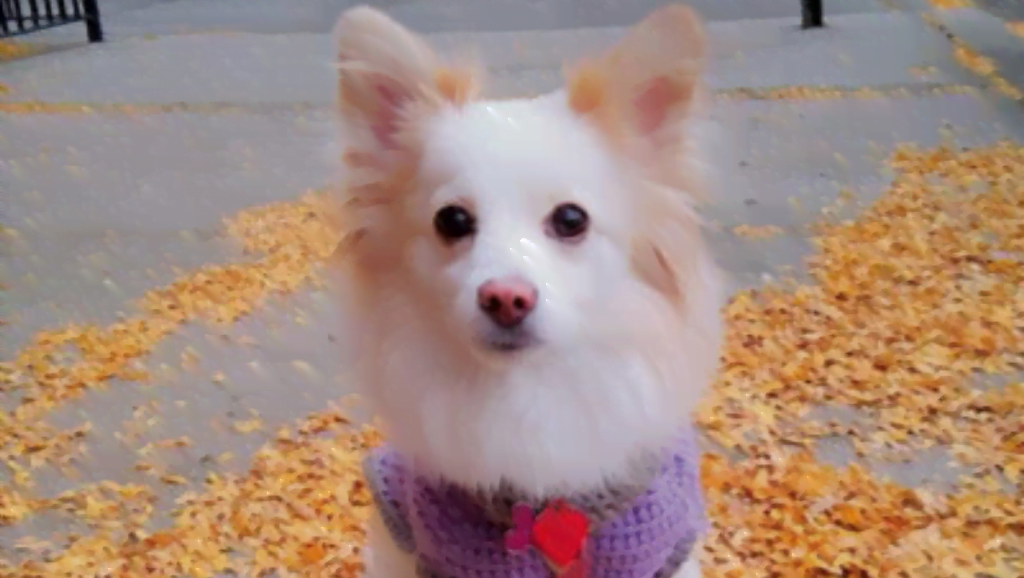 In 2015, my brother and his wife were looking for a fur baby to adopt. They visited some animal shelters in New Jersey but didn't feel a connection with any of the dogs.  Over the Christmas holiday, they were visiting family in Pennsylvania and decided to check out a shelter in Quakertown. The first pooch they met at the shelter, Lola, jumped into their arms, kissed their faces … and the rest is history!
Lola was exactly what they were looking for: small but not too small, furry and lovable.  Lola changed their lives and they are so grateful for her.  They were looking for a dog just like her but would never have imagined that she would be the one to choose them by jumping into their lives! At the beginning, she had several health issues but after 6 months, with a change in diet and some well needed grooming, she became a new doggie.
Lola is a Paperanian – half Pomeranian, half Papillon.  She is a country girl at heart but has quickly adapted to city life in New York.  She is her parents' shadow and loves following them around the house and traveling on trips to Montreal, Woodstock and the Hamptons.
Lola considers herself a fashionista – she has an outfit for every type of weather and holiday – raincoat, puffy jacket, winter hoodie, birthday party dress, Halloween costume, Easter shirt, etc. and don't even talk about the number of toys she has at home.  She loves especially her furry frog, her Care bears and bone.  Her favorite treats are anything made with sweet potato! For all these reasons, the DOGGIEVILLE Mtl pet store was named after her.  At Lola's Corner, you can find a premium selection of clothing, toys, accessories, treats, you name it! No doubt it has become Lola's favorite spot during her visits to Montreal.
In 2016 my cousin was browsing rescue doggies online to adopt her own little furball.  When she saw Yoda's pictures, it was love at first sight; he looked like a little mouse in need of love.  He is a mix between Schnauzer, Maltese, Poodle and another unidentified breed.
When my cousin met Yoda's rescuer, she learned about his story of abuse and abandonment.  Yoda was rescued in a bad part of town; he'd been beaten and abused by different gangs.  It was almost impossible to touch him; he was so scared even when being offered food.  He was dirty, smelly, full of fleas and mites. When she took him to the vet, he was diagnosed with anemia and stomach problems.  However, the biggest challenge was to heal his emotional issues.  He didn't trust anyone, neither people nor dogs, and was always ready to bite.  It took a long time to win his trust, but love, patience and perseverance were the key to success.  Finally, Yoda understood that my cousin was his mother and wanted to take care of him for the rest of his life. Since then they have been a blessing to each other.
One year later everything seemed to be normal – he was the happiest dog on earth, but sadly a new chapter of his life began… he couldn't use his back legs anymore.  The vet found a spinal compression and seven herniated discs.  Yoda was immediately taken to the surgery room.  The diagnosis: a degenerative disease.  After the surgery, he required treatment such as acupuncture, physiotherapy and hydrotherapy.  The journey hasn't been easy.  Yoda's legs never went back to normal; sometimes he can't stand up on his four legs.  What remains the same, though, is the strong love his mom has for him.
In honor of Yoda and his strength to move forward despite adversity, we named our hydrotherapy services "Yoda's Splash", where all doggies in need of rehabilitation or those who just want to work out and have fun are always welcome.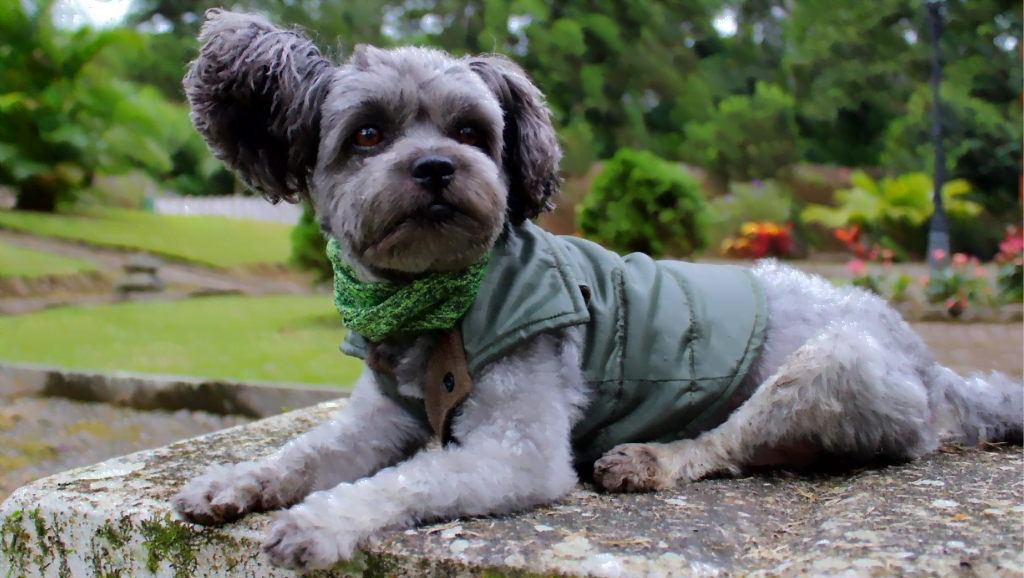 I always grew up surrounded by doggies of all types of breeds, from Chihuahuas to Dalmatians.  My grandma and parents taught me how to love them and take care of them.  When my siblings and I grew up and left home, my parents remained alone without the company of a tail-wagging partner.  However, they were helping to taking care of Ruby and Lola, the new members of the family.  I suggested they adopt a four-legged kid, but they weren't sure about taking a full-time responsibility.
Back in 2016, a friend of my mother showed her a picture of a 4-year-old Shih Tzu, Sam, who was up for adoption.  His family needed to move, and the new place didn't accept pets, so they were desperately looking for a home for him.
When my mother saw his adorable face, she fell in love.  Who can say no to such a cute doggie? Their hearts were touched, and it was only a matter of weeks before Sam was part of the family.  They took him to the vet immediately and found out he had several health issues that nobody mentioned – we believe this was the real reason why they gave Sam away.  First of all, he was older than they said he were, and had a thyroid disorder that requires consistent medication and follow up.  He also has chronic inflammation and infection in his left eye that has reduced his sight considerably.  However, none of these issues have stopped us from loving Sam and making him the most spoiled family member.
Making Sam happy made my parents happy, they can't imagine their lives without him.  Sam gives them company, reassurance, and love. He is not only obedient, loyal and protective, he is also a smart angel.  He learned to fetch his leash, throw it on my parents' feet and bark to be taken for a walk – he is the boss of the house, no doubt.  Once he returns home from a walk, he is the Sleepy King.  He has managed to get into the sheets of all the beds in the house and sleep for hours… That is the reason why we gave the name "Sam's Lodge" to our boarding service.  We can assure you that Sam has tried all of the beds in the Suites and Condominiums, giving a 5-star rating to our facility.
Since the loss of her furry kid, my sister didn't have a doggie for 13 years, but she knew there was an important part of her life that wasn't fulfilled.  She needed the love and company of a four-legged angel.  In 2017, she started her search in different shelters and on Facebook pages until she saw the picture of a sad but cute fur ball.
Chlóe is a poochon – half Poodle, half Bichon.  She was a street dog and was rescued by two girls.  Her rescuers posted Chlóe's pictures trying to find her owner, but after a month, nobody had claimed her. During the day she was staying in an office and every night she slept in the patio of a neighbor.  This instability wasn't good for her, so the decision was made to put Chlóe up for adoption.
My sister applied for the adoption and after a few weeks, she had a visit from Chlóe.  As soon as Chlóe entered the apartment she felt at home, running into the living room, jumping on the bed and sniffing the balcony.  The rescuers decided my sister would be the perfect mother for Chlóe.  Both fell in love with each other immediately: now Chlóe is her whole life, her lovely daughter.  Chlóe changed my sister's existence and became her travel partner wherever she goes.  Now my sister wonders how she survived all these years without such unconditional love, that makes her life richer and happier.
Chlóe's favorite thing is sniffing around: she's very curious, thus her face is always so dirty.  Considering Chlóe is in need of a good bath all the time, we named the grooming salon after her as "Chloe's Spaw".  She has become a VIP client and gets her blueberry facial every week to keep her gorgeous look.  At Chloe's Spaw, we welcome not only doggies but also kitties who want to be pampered in style by our behaviorist-specialized groomers.
Making Dogs happy by providing a fun and enriching experience and giving pet parents peace of mind knowing their beloved furry family members are safe and having a great time.
To become leaders in offering the ultimate one-stop solution for doggie lovers by providing an innovative, delightful, caring and unforgettable experience.
We recognize that all doggies come in different sizes and we praise these differences by providing unconditional love as if they were our own.
We value the power of community by unifying doggie lovers and their furry friends under one roof.
We are committed to meeting the highest standard of social responsibility in protecting all our stakeholders, from our employees to our clients, by fostering a positive impact in how we conduct our business.
We value unparalleled quality of customer care, facilities, services and products 24/7, 365 days of the year.
We value the trust of our clients by practicing consistent transparency and honesty in all that we do, whether it be caring for our fur guests or communicating with their parents.
"The greatness of a nation and its moral progress can be judged by the way its animals are treated. "

Mohandas K. Gandhi
We have a pretty cool story! DOGGIEVILLE Mtl is located on a Heritage Building built in 1919 and was one of the first concrete-reinforced and steel structure buildings in Montreal. It was an integral part of Crane Canada, a major factory complex on the Lachine Canal.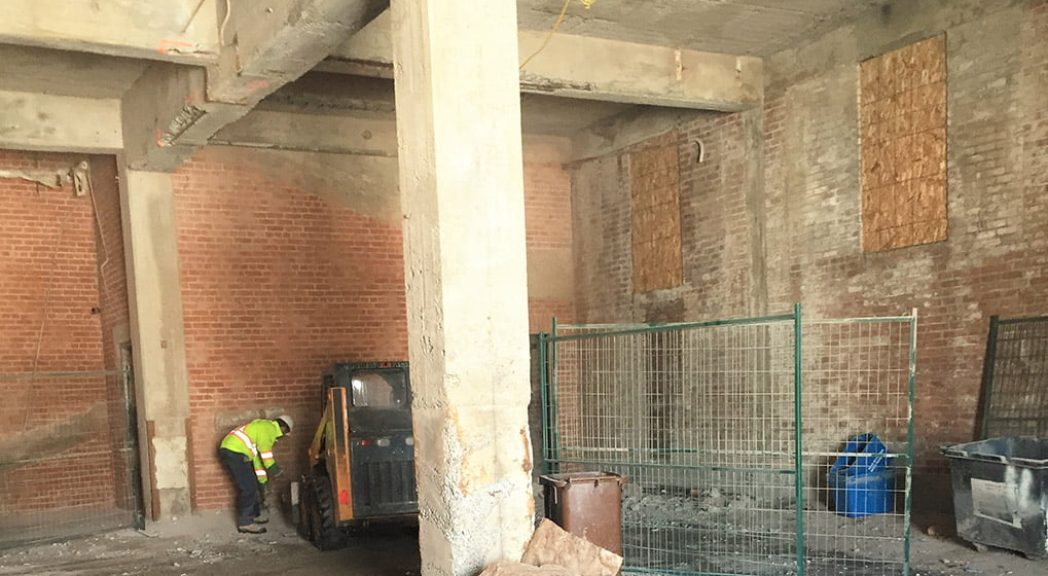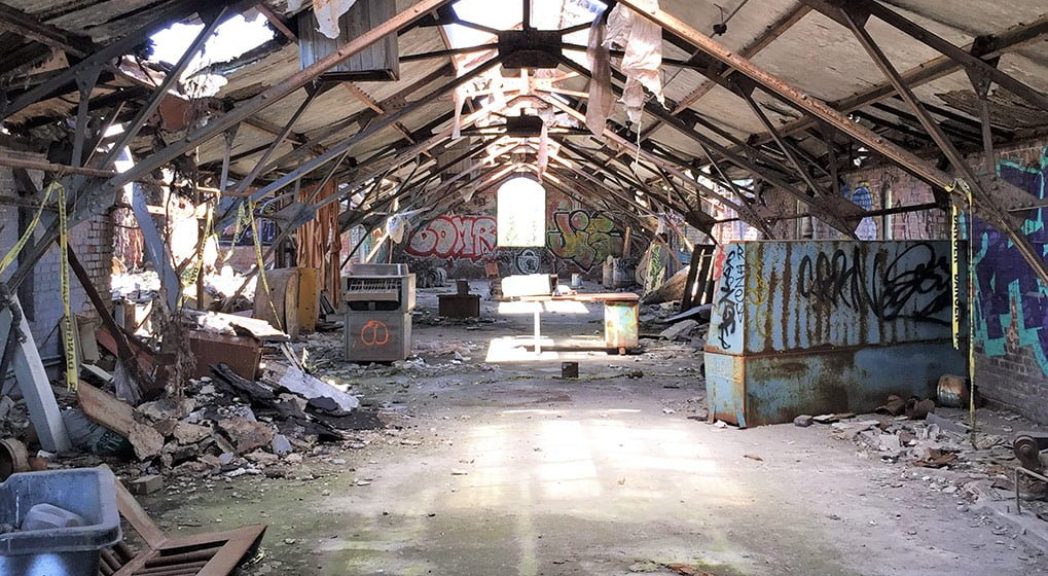 Locations along the canal were considered to be a prime spot for the city's factories because they could use the canal's water to power the water wheels used to run their various machine tools.
The building that now houses DOGGIEVILLE Mtl was part of the Crane Canada Co. manufacturing complex that housed the delivery horses that distributed industrial brass and iron plumbing products such as valves and pipes around the city.
In June 2011, a blazing fire destroyed all of 3820 Saint Patrick but left DOGGIEVILLE Mtl intact! Many people contemplated tearing 3824 down but thanks to several petitions and a desire to keep Montreal's history, the construction company gave up and removed excavators from the site.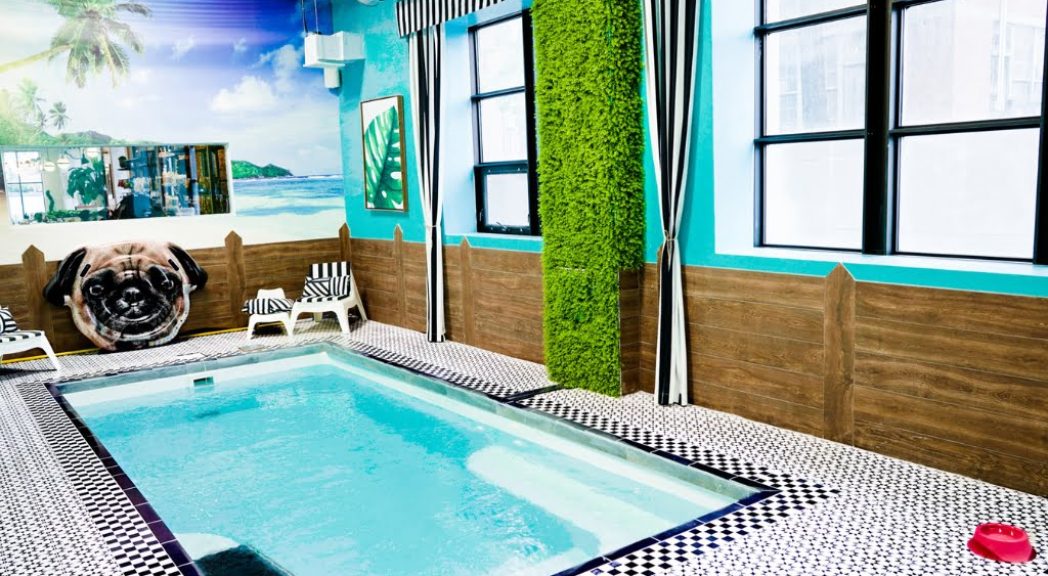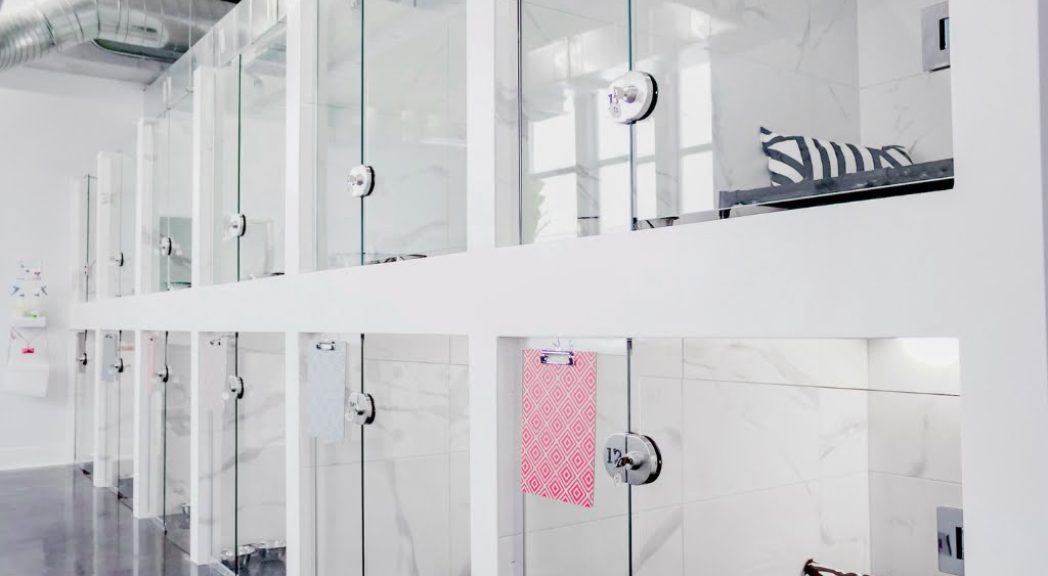 We're proud to have restored such a historic building for four years but also to have the ability to continue practicing animal care. The new facility provides a contemporary environment while preserving the ambiance and charm of the original building. Traditional elements were reinterpreted along with added features to create an iconic place in the rebirth of the Lachine Canal!
With animal care as our number one priority, DOGGIEVILLE Mtl offers every doggie service under one roof. Whether you're looking for boarding, daycare, training, grooming, hydrotherapy or AN INDOOR PARK, OR simply to surprise your pooch with a new toy, DOGGIEVILLE Mtl offers the best in doggie services.
"Heritage is not about creating museums or locking-up buildings in time. The best examples
of heritage conservation are those that enable the building to be enjoyed and loved."
THE
HUNDRED YEAR

TIMELINE